Mr. Asaad Hamzy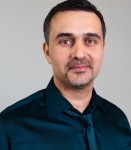 Asaad Hamzy was born in Russia. His mother is Russian and his father is Syrian. He began his musical career in Syria composing and playing solo guitar concerts performances at the age of 14.
He joined the Syrian Conservatoire where he had trained in many fields, joined lots of workshops with many professors from Spain, France, Armenia, and Russia. He graduated with a high score in the field of guitar, composition, theory and piano.
Asaad taught harmony and composition at the Syrian Conservatoire and was an experienced solo performer both at the Institute in Damascus, the Al Assad Library and throughout Syria.
He also teaches Piano and has many students from beginner to Grade 8.
He has over ten years experience in teaching guitar, piano and theory at schools throughout the Middle East, he developed many methods to help students start playing guitar as solo or in groups.
Asaad has orchestrated many compositions for ensembles, orchestra, choir and opera works. Some of his compositions have been played in the UAE, Russia and Syria.