Ms. Simona Cmrecnjak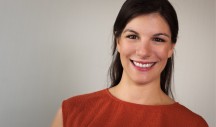 Born in Split, Croatia, Simona started playing violin at the age of nine.
She studied at the Arts Academy University Of Split with Violeta Smailovic-Huart, obtaining a master's degree in violin performance and pedagogy in 2009.
During her studies Simona won several regional and national prizes as a soloist and a chamber musician and has attended the masterclasses of eminent violinists including Leonid Sorokow, Tamara Smirnova and Evgenija Cugajeva.
Due to her outstanding academic performance, she was awarded with scholarships by Croatian Ministry of Science, Education and Sports, University of Split and City of Omis.
An experienced performer, she is a former member of several prominent youth orchestras, including the Central European Youth Orchestra, YMISO (Young Musicians' International Symphony Orchestra) and International Orchestra in Neumarkt, Germany. She served as a leader of Arts Academy University Of Split Orchestra. She is also a former member of the Croatian National Theatre Split Orchestra and the Split Chamber Orchestra, performing extensively over Europe including concerts in Italy, Germany, Austria, Hungary, Poland, Czech Republic, Slovakia, Bosnia and Herzegovina, Slovenia, Montenegro and Belarus.
Since moving to Dubai, Simona has performed with National Symphony Orchestra, Dubai Chamber Orchestra and Dubai Sinfonia.
Simona's students have won many prizes in international competitions (Dubai College Music Competition, Eisteddford Adelaide music Competition, Young Musician Of The Gulf Music Competition), took masterclasses, and continued their studies with eminent violin pedagogues.
Besides music, Simona enjoys reading, traveling and spending time in nature.
In 2013, she went to Cambodia to volunteer in the Green Gecko Project.