Ms. Crosby Delaney-Barrett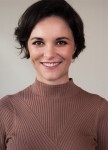 Crosby fell in love with the violin as a young girl - so devoted to the instrument that her mother punished her for dawdling in chores and schoolwork by taking away her practice time. Since she began her own private studio in Dallas, Texas more than ten years ago, she has been passionate about teaching students this same love for music, and especially violin. Her studio became a rich community of more than thirty pupils - building friendships between the students and their families, teaching discipline, commitment and a love of beauty while inspiring musical growth through recitals, concerts, theory and ensemble classes, parent workshops and various efforts to raise awareness for the arts.

In 2006, Crosby was accepted by the Baylor University School of Music where she completed both Bachelor and Masters Degrees in Violin Performance. She has performed with the Baylor, Temple, San Angelo, and Waco Symphonies; given solo recitals, chamber recitals with the Baylor Graduate String Quartet, Baylor Early Music Ensemble (where she soloed frequently and held leadership roles including Principle in Purcell's opera Dido and Aeneas), Baylor Chamber Singers (soloing in Faure's Requiem), and toured the east cost with Baylor's top choral group, Acapella Choir, under the direction of Dr. Alan Raines.

As a teacher she brings a wealth of enthusiasm, patience and passion, along with the creativity needed to inspire students to achieve their personal goals through hard work and dedication. Having worked with children as young as two and adults as old as sixty, she is keen in understanding the needs and learning styles of each student and adapting her teaching techniques to meet those needs. With extensive experience in the Suzuki, Galamian, Kodaly, and Auer methods as well as playing experience including styles as varied as Opera, Medieval Plainchant and Rock she is able to bring a variety of options to her students in addition to preparing them for the Trinity or ABRSM exams.