Ms. Natalia Vaskinova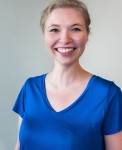 Natalia Vaskinova graduated from Sibelius Academy in 2016 with a Master's degree in violin performance. In 2014, she graduated from Metropolia University of Applied Sciences with a Bachelor's degree in Music Education for violin.
Natalia has 10 years of work experience in music education and has taught at such institutions as Helsinki Conservatory and Lohja Music Institute working with children aged 5 yrs all the way through to adult. One of her favourite activities during her teaching at the music institute was running a music club for young beginner students aged 6-8 introducing them to all aspects of music and starting the violin.
For the past two years Natalia has also been a co-founder of Taidetöölö Music School in Helsinki, where she also taught violin, theory, and solfeggio. Natalia is an active artist, and performs solo and with a chamber ensemble. In 2015–2016 she participated as a soloist in the Sibelius Finland Experience concert series, which took place at the National Hall in Helsinki.
In addition, Natalia is an active performer of contemporary music and has participated in many premieres on the main stages of Finland. Natalia's teachers included Sergey Sarkisiants, Jaakko Ilves, and Mikhail Kopelman. Natalia's favourite hobbies are cooking and playing the trombone.