Mr. Christian Wood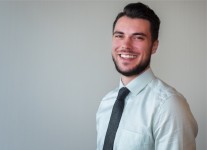 Having developed a strong passion for the guitar in his teens, London Born guitarist Christian has since been completely devoted to his studies and committed to becoming the best musician he can be.
In 2010, Christian gained a place on an Undergraduate Degree Course at The London College of Music under the tutelage of Lebanese guitarist Jad Azkoul. Whilst at University he had the opportunity to perform in various master-classes with world renowned guitarists such as Rafael Aguirre, Margarita Escarpa and Edoardo Catemario and also formed the London Guitar Quartet which went on to perform in various concerts. Other collaborations include working with percussion, flute, viola, jazz groups and other guitar ensembles. Christian also achieved the Association Diploma in musical performance in 2013 and has performed solo recitals in various venues in London such as St James' church in Piccadilly, Lauderdale House, St Alfege Church in Greenwich and Bolivar Hall to name a few.
Having graduated from The London College of Music in 2014, Christian continued onto a Masters in music Performance at Trinity Laban Conservatoire under the guidance of guitarist Graham Devine and has also focused heavily on the pedagogical aspects of guitar. He has been a highly active teacher across the Berkshire area teaching over 70 students with a large range of ages, levels and musical styles.
Having been so inspired by many of the great musicians he has been lucky to encounter and be taught by in his life, Christian aims to provide the same inspiration and passion to all of his students and is very excited to be joining the CMA team and starting a new life in Dubai in 2016.