Mr. Jonathan Barrett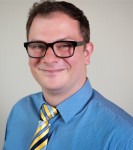 Jon Barrett has been a classical music lover from early childhood. His grandparents fostered that love by exposing him to all the great orchestral classics until, at five years old, when asked what music he would like to listen to he would exclaim, "Big music!" Naturally, he decided to focus on the brass family of instruments. Beginning his musical training on trombone at the age of eleven, he would play trombone and tuba in both bands and orchestras throughout his school years.
He was awarded a full music scholarship to complete his undergraduate performance degree in Trombone at Baylor University in Texas. During his bachelor studies he discovered his love for theory, composition, conducting and teaching. He went on to pursue these passions earning a Masters Degree in Music Composition from Baylor where he studied with clarinetist and composer Scott McAllister and conductor Kevin Sedatole. His piece Oscillate won the annual composition department contest and Jon conducted the Baylor Symphony in 2008. The concert was so well received that Jon was asked to conduct it again in a concert with the Waco Symphony the following year. Before moving to Dubai and beginning work at CMA, Jon was enrolled in the doctoral composition department of the University of Texas at Austin where he studied with esteemed composers such as Donald Grantham, Russell Pinkston, and the late opera composer, Daniel Catán.
Jon brings passion and invention to teaching across all the brass instruments. He gains true enjoyment from imparting his love for learning and music to his students. As an experienced composition and theory teacher, he is skilled in presenting topics for theory and aural exams in a way that is both relevant and interesting to younger students. For older students, wanting to pursue music on a deeper level, he is both a challenging and inspiring instructor who is always searching for new ways to present musical ideas and encourage original thought.