Mr. Ronnie Cocozza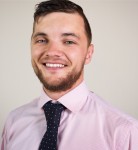 Ronnie graduated with a First Class Music Degree (BMus) from Edinburgh Napier University in 2011, before continuing his studies to Masters Level at the Royal Northern College of Music in Manchester, where under the tutelage of Rob Buckland graduated with a MMus in Solo Performance (saxophone) in 2013. During his studies Ronnie had the privilege of performing in various concerts as a soloist and ensemble performer and masterclasses under the direction of some of the most accomplished and highly acclaimed saxophonists and wind specialists in the world, including Vincent David, Tim Garland, Jerry Bergonzi, Gilad Atzmon, Raaf Hekkema, Andy Scott and Linda Merrick. Most notably he performed and recorded a CD with the RNCM Saxophone Orchestra at the 16th World Saxophone Congress 2012 in St Andrews.
Ronnie Currently works as an instructor of music for North Lanarkshire Council on the outskirts of Glasgow, Scotland. Specialising in woodwind instruction he has taught children from beginner to advanced levels in preparation for ABRSM & Scottish Qualification Authority examinations as well as assisting & conducting local authority bands & groups. Out with North Lanarkshire Council Ronnie also teaches woodwind, piano and music theory at Lamp House Music, an independent music institution based in Haddington, East Lothian.
Also serving as a musician in the Highland Band of the Royal Regiment of Scotland, Ronnie regularly rehearses and performs in woodwind quartets, jazz groups, soul bands, massed wind orchestras and marching bands within the British Army and Army Reserve as well as serving as the band recruiter. Over the summer months the Highland Band will be involved in numerous engagements within the UK & abroad.
Ronnie enjoys teaching woodwind in a variety of styles from classical to jazz & improvisation while focusing on areas such as technical development, artistic creativity and stylistic appreciation.