Ms. Magdalena Wajdzik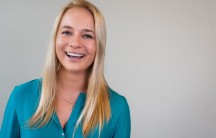 Magdalena, a native of Poland, is a pianist, chamber music performer and a piano pedagogue. She didn't grow up in the family of musicians, but she inherited the love for music from her grandfather. Practice never came easy for her and it was not until the age of 19 when Magdalena realized that being a performing pianist could be her profession. At the same age was also a turning point where she started developing a deep interest in contemporary music. Her performances were highly acclaimed during a contemporary music competition in Krakow where she received the 3rd prize. While in college, Magdalena was chosen to be the principal pianist for the Contemporary Ensemble at Birmingham Conservatoire as well as the principal pianist for the Birmingham Conservatoire Symphony Orchestra. This exposed her to many works written by modern composers, as well as gave her numerous opportunities to meet and interact and collaborate with some of them.
Magdalena has performed as a soloist with orchestras such as Central English Ensemble, Birmingham Repertoire Orchestra as well as Birmingham Conservatoire Symphony Orchestra. Her favorite piano concerto is the Ravel Piano Concerto in G major. As a graduate from F.Nowowiejski Music Academy in Bydgoszcz, Poland, as well as Birmingham Conservatoire and The Liszt Academy in Budapest, Magdalena holds her Bachelor of Music Diploma, Master of Arts Diploma in piano performance as well as Advanced Postgraduate Diploma that was awarded to her with the second highest mark in the history of the school. Her hard work and all-related success wouldn't pay off without her always-committed piano professors; Prof. Maria Murawska, Margaret Fingerhut, Prof. Malcolm Wilson and Victor Sangiorgio. During her studies Magdalena had invaluable opportunities to participate in master classes with renowned pianists, such as, Bruce Brubaker, Martin Canin, John Lill, Peter Donahue, Michael Kazakevitch, Andrew Ball, Martin Jones, Orif Wolf, Ashley Wass and Graham Cassie.
For the past few years she enjoyed a close relationship with the Atlantic Musical Festival in the USA, where she was the fellow pianist for the AMF Contemporary Ensemble. Every year, during this 4-week long event, she took part in many concerts and fruitful recording sessions, giving her a long list of modern pieces composed by young, emerging American composers.
Magdalena has been recognized as a soloist and a collaborator in the countries of Poland, United Kingdom, Hungary, USA and UAE. Some of the many rewards she has received are; a joint-winner of Birmingham Conservatoire Piano Prize, a special prize (runner-up) at the Ambache Prize for the Performance of Music by Women Composers, John Campbell Prize for a Keyboard Player (2008), Marjorie Hazlehurst Piano Award (2009) and the PGCert (Music) Course Prize (2010) for over-all excellence. In August 2010, she was awarded the Third Prize in XIV International Competition of Contemporary Chamber Music in Krakow, Poland; and in 2011 she won the inaugural Peter Donohoe Prize. Towards the end of her years at Birmingham, she won both the Renna Kellaway Piano Recital Prize and the prestigious Town Hall/Symphony Hall Prize. To her most prestigious awards Magdalena can add the winner of the Park Lane Group which led to her appearance as a solo pianist at the South Bank Centre in London.
Her most recent professional engagements include appearance as a chamber music performer as part of the Chamber Music Concerts at the New York University. Her upcoming performances as a collaborator will include works by Shostakovich, Bartok, Messiaen, Crumb, Szymanowski and Lutoslawki. Her musical mentor has been Maestro Rony Rogoff with whom she stays in a close musical relationship.
She plays a vast range of repertoire, and has maintained a keen interest in contemporary music. She is also a fervent support of Polish Folk Music and she is involved in many charity concerts.
Since August 2014, Magdalena made her home in Dubai and joined the Centre for Musical Arts as a Piano Specialist. From September 2017, Magdalena will take on an additional role as the Schools Co-Ordinator Kings' School Al Barsha. As a piano pedagogue, she becomes invested and passionate about her students' future success. With her guidance and vast years of experience, she doesn't only teach how to play and understand piano and music theory well, she also teaches how to better express emotions through the instrument. Magdalena has been very proud of being able to successfully implement interest in music in her students' lives. She has worked, teaching essential musical skills, with numerous young children and adults. Among her accomplishments, she takes most pride in the influential role she has had as a piano teacher. It is highly rewarding to see outstanding talents of students who professionally display their skills and are highly appreciated by various audiences. She received her teaching education during her Bachelor and Master studies, as well as during teaching training for Birmingham Music Service. Additionally, she took part in workshops discussing performance psychology aspects to improve the art of performance itself.
In life, Magdalena is a keen volunteer. In February 2017, together with her colleagues, travelled to Cambodia to support the Green Gecko Project. They were responsible for music education of kids who come from disadvantaged backgrounds. She wishes to continue supporting this organization within the upcoming years.
Magdalena's interests reach well beyond music. For the past few years she has been a keen follower of meditation and mindfulness practice. She regularly attends silent meditation retreats in Asia as well as charity events. She is also interested in performing psychology in sports and believes in a close relevance of it to music.