Ms. Madison Da Silva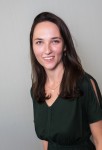 Born and brought up in Dallas Texas, pianist Madison Da Silva has been a piano-lover since she was old enough to pull herself up on her grandmother's upright to touch the keys. She began her musical training at the age of 6, studying with Suzuki teacher-trainer and pedagogue, Anne Bowman for many years. During these studies she received numerous medals in music theory and performed annually in sonatina, jazz, American and sacred music festivals in the Dallas, Texas metroplex, in addition to the National Piano Guild. Her other teachers and mentors include Libby Armour of Talent Education Conservatory, Polly Beaver and Eric Larson (North Carolina School of the Arts), Olegna Fuschi (Juilliard) and composer, psychologist, and concert pianist, Dr. Heather Schmidt.
Madison is an expressive performer, often praised by jurors and listeners for her sensitivity and the deep tone she pulls from the instrument. Her recital repertoire has included both sonatas and concertos by Mozart, Bach's Prelude and Fugue studies, Rachmaninoff Preludes, Brahms and Schubert as well as a variety of Jazz and Modern works.
Madison also brings a wide variety of teaching experience to her piano lessons. She has taught piano to students of all ages, levels and abilities - with a particular passion for working with beginning pianists and children with autism and other learning disabilities. Madison has a natural grace and patience in her teaching style. Her calm, nurturing nature is an inspiration to students and parents alike. She has experience accompanying young players for exams and competitions as well, making her a valuable coach for performance collaboration. In addition to teaching piano, she has worked at a Horse-Riding therapy facility for young children, tutored children in their school studies and taught English at an ESL center for Brazilian students in Moreira Sales.